He [Matthew] went off into the woods on the other side of the moat and came back with a tall fir tree for the great hall, which he draped with tiny white lights that shone like fireflies.
We have neither a tall live fir tree, nor a great hall, but we crafted a few decorations you can add to your Christmas tree. At least until some merchandise is available, the only way to have All Souls-inspired Christmas ornaments is to make them ourselves. And as an extra touch, you can Yule ornaments with moon and stars.
Book Ornaments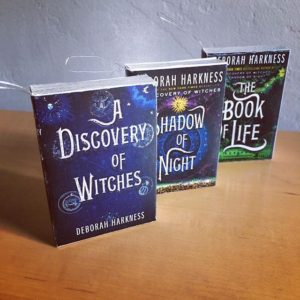 These ornaments take some patience to fold the card stock, glue all the parts, and then apply the glitter. We used a long toothpick to apply the glitter as an accent. It's silver for A Discovery Of Witches; gold, green, purple, and blue for Shadow Of Night with silver for the book title; gold, green for The Book Of Life, plus silver for the title. We mixed silver and gold glitter glue for the top, side, and bottom of the books.
The templates are large files and the download may take a few seconds.
Supplies:
•   Card stock paper
•   A Discovery Of Witches template
•   Shadow Of Night template
•   The Book Of Life template
•   Laser printer or good ink jet printer
•   Regular glue
•   Glitter glue in multiple colors
•   Sharp scissors
•   Silver strings
•   Mini-book template downloadable here
Extra: Would you like to turn other books into Christmas decorations? All you have to do is scan the cover and then reduce the size.
Diana & Matthew Ornaments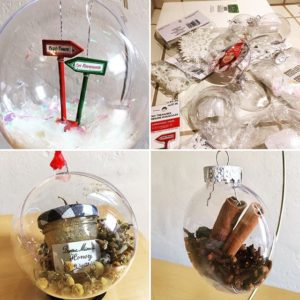 These two ornaments are fairly quick and easy to make, and it shouldn't take more than 15-20 minutes. We purchased all the supplies from a local arts & crafts store.
You can also use your imagination to make ornaments inspired by other characters. For example, you can use coarse sea salt, tiny seashells, and some mint, to make a Gallowglass scent-inspired ornament.
We also thought about making an Emily-inspired ornament with vanilla walnuts, but chances are those yummy walnuts won't make it inside the ornament 🙂
Supplies:
•   80mm plastic snap ornament
•   4″ x 2″ clear plastic disc ornament
•   Cinnamon sticks & cloves
•   Mini honey jar and dried chamomile flowers
Sept-Tours & Les Revenants Ornaments
This particular ornament is a bit more involved. We used a thin silver string to hang the signs, and balancing may take some trial and error.
Supplies:
•   100mm plastic snap ornament (from arts & crafts store)
•   Faux snow
•   Tiny green and red signs (from arts & crafts store)
•   Tiny self adhesive labels for Les Revenants and Sept-Tours
Matthew Clairmont's Wine Cellar Ornaments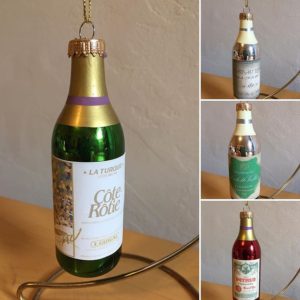 The tiny wine bottles were the most fun to make for us, especially since it involved researching Matthew's favorite wines. Deborah made the research easy since there's a page about Matthew's wine cellar on Deborah's website.
If you feel inspired, you can print additional wine labels by looking up what's in Matthew's cellar. And if you want to be nerdy about it, look for the specific vintage. You'll notice that Château Yquem is already included.
Supplies:
•   Wine bottle ornaments in assorted colors from Cost Plus World Market
•   Avery large shipping labels (18126 or similar)
•   Miniature wine labels from Matthew's wine collection, downloadable here
•   Sharp scissors
Bonus: The Weaver Spells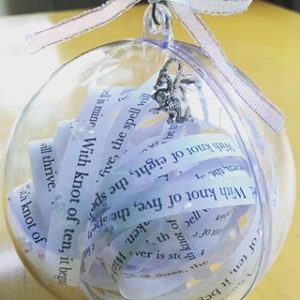 We made this ornament about a year ago and have included the instructions to make it.
Supplies:
•   80mm plastic snap ornament (from arts & crafts store)
•   Firedrake pendant (optional)
•   White iridescent glitter
•   Weaver spells cut in narrow strings (download the template here)
•   Sharp scissors or paper cutter
•   White & silver ribbon
Bonus: Yule Decorations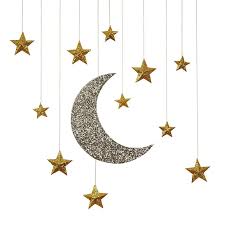 If you want to honor Philippe and are in the mood for some pretty moon and star decorations, all you have to do is visit your arts & crafts store to buy silver, and gold glitter paper and strings.
Supplies:
•   Silver glitter paper
•   Gold glitter paper
•   Strings
•   Sharp scissors