Wales is an absolutely magical country and extremely versatile from a TV production point of view.  In A Discovery Of Witches, Wales plays Oxfordshire, Scotland, the Auvergne, Madison County in upstate New York, and even Finland!  Rest assured that we have not reshuffled the tectonic plates or flanked a geography class. Apparently, impossible n'est pas Wales! And Bad Wolf simply hired one of the most talented and knowledgeable location managers to find and supervise the best locations in the UK, Gareth Skelding—"Gaz" to friends and colleagues.
Gaz was very generous sharing the locations where A Discovery Of Witches was filmed, so we can all visit and enjoy a 'TV production full immersion experience.' And every time you see one of the locations described in this quick guide, remember that you have a Wales expert taking you there. How lucky is that?!
Wales Filming Locations At-A-Glance
| | | |
| --- | --- | --- |
| Locations | TV Series | Book Inspiration |
| Bodleian Library | Wolf Studios Wales & Bodleian Library | Bodleian Library |
| Hamish's Hunting Lodge | Private estate not open to the public | Chatelherault, Scotland |
| Hamish's Lodge hunting grounds | Lake Llyn y Fan Fach in the Brecon Beacons National Park | Cadzow Lodge hunting grounds, Scotland |
| La Pierre | Carew Castle, Pembrokshire (interior), and Carreg Cennen (exterior) | Château de Murol, France |
| Matthew's Lodgings in Oxford | Insole Court, Llandaff, Cardiff | All Souls College, Oxford |
| Matthew's Mansion in Woodstock | Llanvihangel Court, Abergavenny | Speke Hall, Liverpool |
| Oxford Covered Market | Cardiff Central Market | Oxford Covered Market |
| Restaurant / Knox, Gillian & Satu | The Exchange Hotel, Cardiff | N/A |
| Sept-Tours Castle* & Gardens | Wolf Studios Wales / Aberglasney Gardens | Château Dauphin, Pontgibaud, France |
* The Castle of Cini Monselice, Italy was also used to film the Sept-Tours scenes.
Carew Castle & Carreg Cennan Castle
In Episode 6, Satu takes Diana to a remote castle called La Pierre in order to learn about Diana's magic. Two different castles stand in for La Pierre in the Auvergne: Carew Castle (interior) and Careg Cennen Castle (exterior).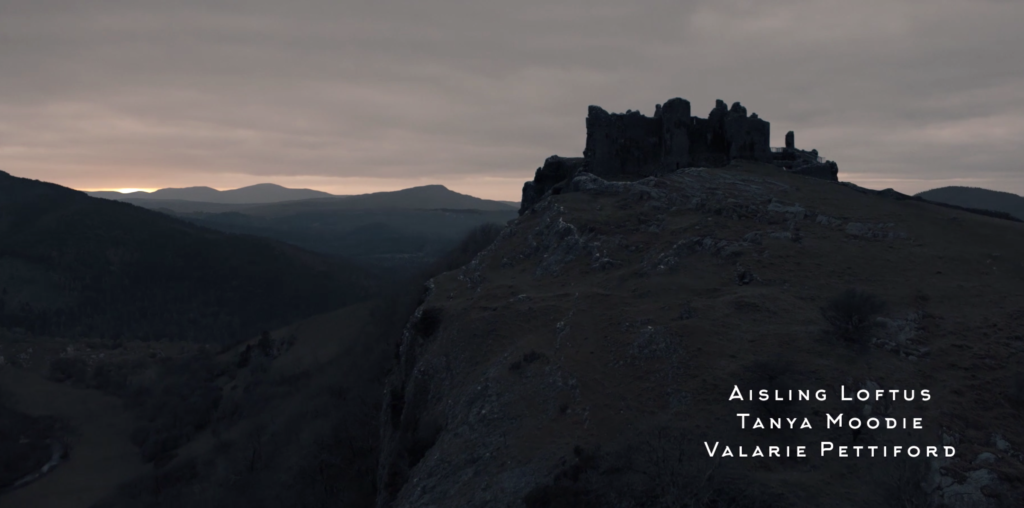 The medieval fortress we see in Episode 6 during the opening titles is Carreg Cennen Castle, which is located on the west side of Brecon Beacons National Park. Carreg Cennen in Welsh translates into Castell Carreg Cennen, which means castle on the rock above the (river) Cennen. This castle is one of Gareth Skelding's treasures: "There was an exterior location that we used for La Pierre, the main location where Diana was held prisoner was in Carew Castle. But the exterior of it we used a different castle which was up on a hill—Carreg Cennen—that is beautiful. We only filmed it with the drone where the drone shot that helicopter stuff when we establish that that's where Matthew goes to rescue Diana."
The rest of the La Pierre scenes are shot at Carew Castle. Located in Pembrokeshire, Carew Castle dates from around the year 1100, when the Normans invaded Wales. An iron age settlement predates the castle. Carew Castle changed several owners and evolved from a medieval fortification to an Elizabethan manor. After the Civil War, the castle was abandoned, suffering looting and decay. Luckily, the castle was leased in 1983 by the National Park Authority, which started an extensive restoration. Due to its bat population and rare plants, the Castle is now a designated Site of Special Scientific Interest (SSSI). It is also open to the public.
Address: Trapp, Llandeilo, Carmarthenhsire, SA19 6UA
Website:  CarregCennenCastle.com
Address: Trapp, Llandeilo, Carmarthenhsire, SA19 6UA
Website:  https://www.pembrokeshirecoast.wales/default.asp?PID=262 
Matthew's Rooms in Oxford: Insole Court
The Reading Room of the Insole Court serves as Matthew's apartment at All Souls College, Oxford. Less than three miles from the historical center of Cardiff, Insole Court has a fascinating history. Built by the Insole family in 1856, the Insole Court has been the headquarters of the ARP (Air Raid Precautions) and the Traffic Police. After falling into disrepair, The Friends of Insole Court, together with the Insole Estate  Residents Association and the Llandaff Society, succeeded in a campaign to reopen the estate in November 2008. The mansion is now open to the public. Check out the opening hours and rooms for hire that may be temporarily closed. And remember to visit the Potting Shed Cafe, as Deborah Harkness recommended.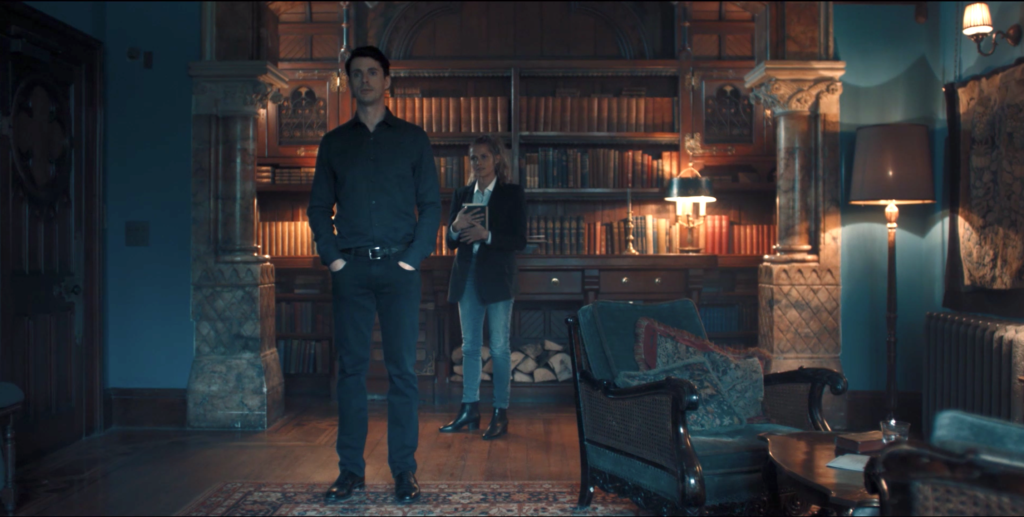 Address: Insole Court, Fairwater Road, Llandaff, Cardiff CF5 2LN
Website: Insolecourt.org/visit
…..
Matthew's Mansion in Woodstock: Llanvihangel Court
Located about 50 minutes north of Cardiff is the stunning Tudor country house that was used for Matthew's mansion in Woodstock. A private house that is periodically open to the public, notable visitors are said to have included Elizabeth I and Charles I.  The awe-inspiring  interior, complete with Louisa's painting is featured in Episode 3, and the exterior is in Episodes 3 and 5.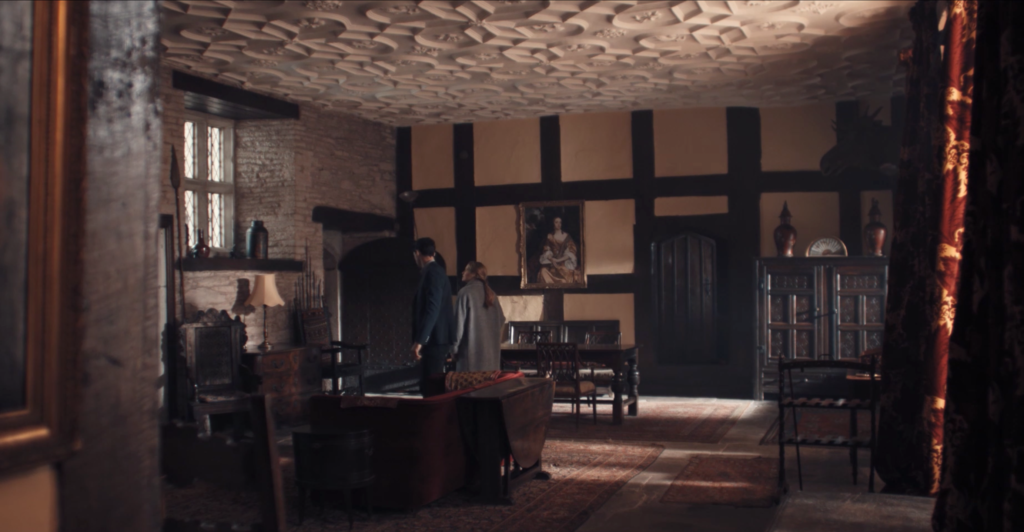 As the mansion is not open throughout the year, it is recommended to arrange a guided tour as a group, rather than individually. Please contact Llanvihangel Court via their website: Llanvihangelcourt.com/get-in-touch.html.
Address: Llanvihangel Court, Llanvihangel Crucorney, Abergavenny, Monmouthshire NP7 8DH
Website: Llanvihangelcourt.com
Oxford Covered Market: Cardiff Market
The Cardiff Market, also known as Central Market, stands in for the Oxford Covered Market, where Diana goes shopping with Marcus in the TV adaptation. The Cardiff Market has been operating since the 1700s and has been occupying the current location for 100 years. It used to be the market for trading produce and livestock. Nowadays, the market primarily sells produce, food, flowers, and household supplies. The Victorian structure is in the heart of the city and it is definitely worth a visit. Take a stroll early in the morning to avoid the crowds.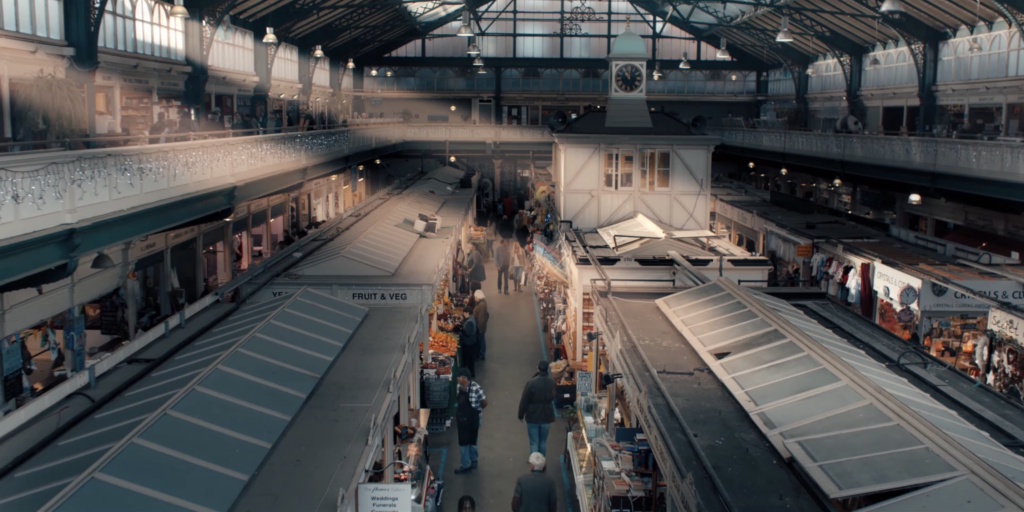 The market is open Monday to Saturday, from 8am until 5.30pm, but do check their website for updated hours.
Address: Cardiff Central Market, St Mary Street, Cardiff, CF1 2AU
Website: cardiffcouncilproperty.com/cardiff-market
Restaurant with Knox, Gillian and Satu: The Exchange Hotel
In episode 2, you may notice a beautiful restaurant where Knox takes Gillian to meet Satu. This is no ordinary restaurant. It is The Exchange Grand Hall at The Exchange Hotel, a historical building that used to house the Coal Exchange, the former hub of the global coal trade. The building was recently restored and transformed into a hotel, which opened in May 2017. You may want to stop for afternoon tea or a drink after admiring the Grand Hall.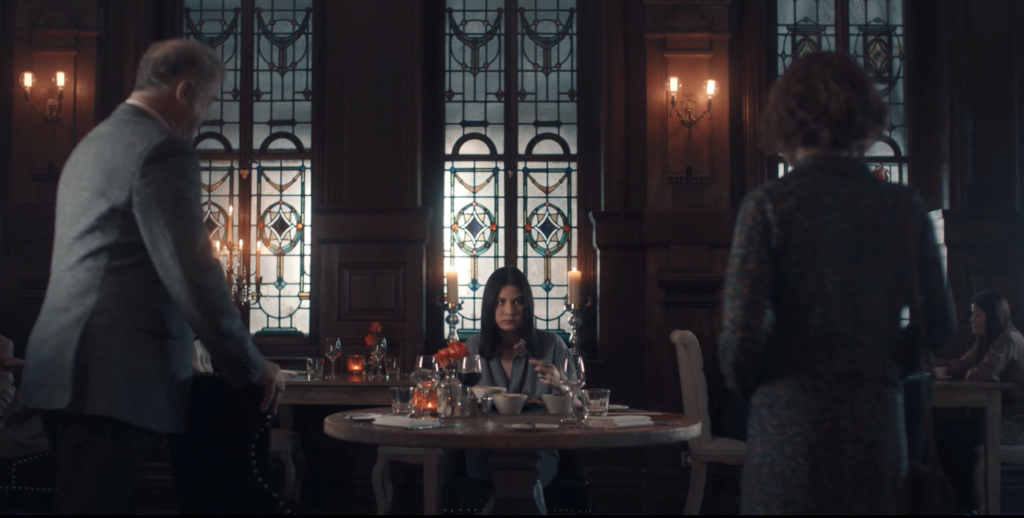 Address: The Exchange Hotel, The Exchange Building, Mount Stuart Square Cardiff CF10 5FQ
Website: ExchangeHotelCardiff.co.uk
Sept-Tours Gardens: Aberglasney Gardens
Aberglasney Gardens are considered one of the finest gardens in England. They are also one of Gareth Skelding's favorite locations: "There's a really sweet location called Aberglasney Gardens in Carmarthenshire. It's been on my radar for a while. I did some filming there for a show called Da Vinci's Demons on the Starz network in America, maybe four, five years ago. I've kept it in my pocket since then, and not used it for much else."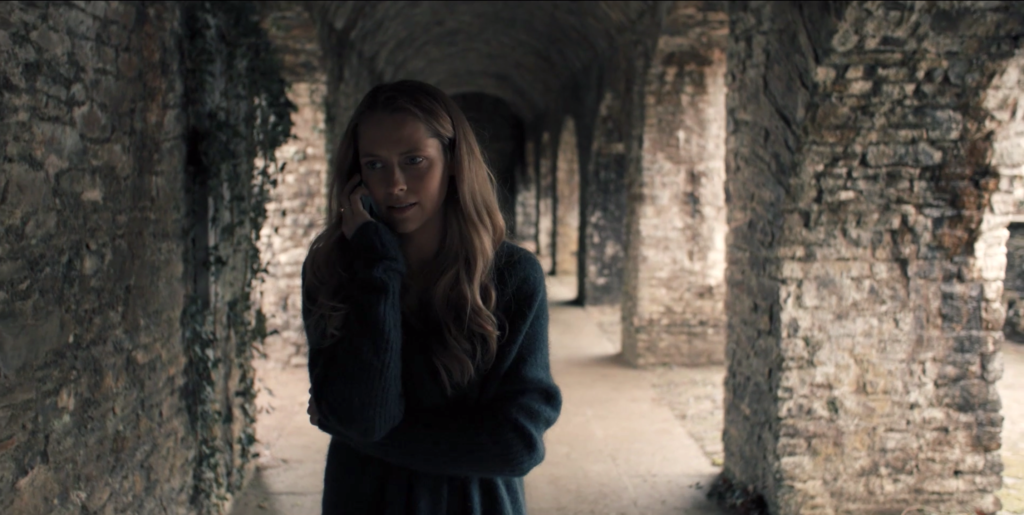 One of the garden sections is bounded by a three-sided arcaded walkway made of solid stone. This is the Cloister Garden. The night scene in Episode 4 with Domenico Michele visiting Sept-Tours, and the scene of Diana walking and speaking on the phone in Episode 5 were filmed in the the Cloister Garden. 
For garden lovers, Aberglasney is a gem, and luckily, it is open to the public.
Check their website for opening hours, events, fees, and to download the handy app, which  allows you to get an audio-visual tour of the Gardens with the head gardener. The Aberglasney app is available to download from iTunes.
Address: Aberglasney Gardens, Llangathen, Carmarthen SA32 8QH
Website: Aberglasney.org
Bonus Features
Gareth Skelding, the location manager in the UK, has shared two additional locations that were used for filming.
One is the corner of Victoria Square & Salisbury Avenue in Penarth, where Marcus tries to sire his friend James, who's dying as a result of being hit by a car in Episode 1.
The second location is Coffee Barker, which is near the Cardiff Market and unfortunately was eliminated from the final cut. It does have a somewhat "witchy feel" to it and looks like a great "pit stop" for fans visiting Cardiff, especially latte-loving daemons.
Penarth: Marcus & James Scene
Address: Victoria Square & Salisbury Avenue, Penart
Website: https://goo.gl/maps/78wXd9yxgJy
Coffee Barker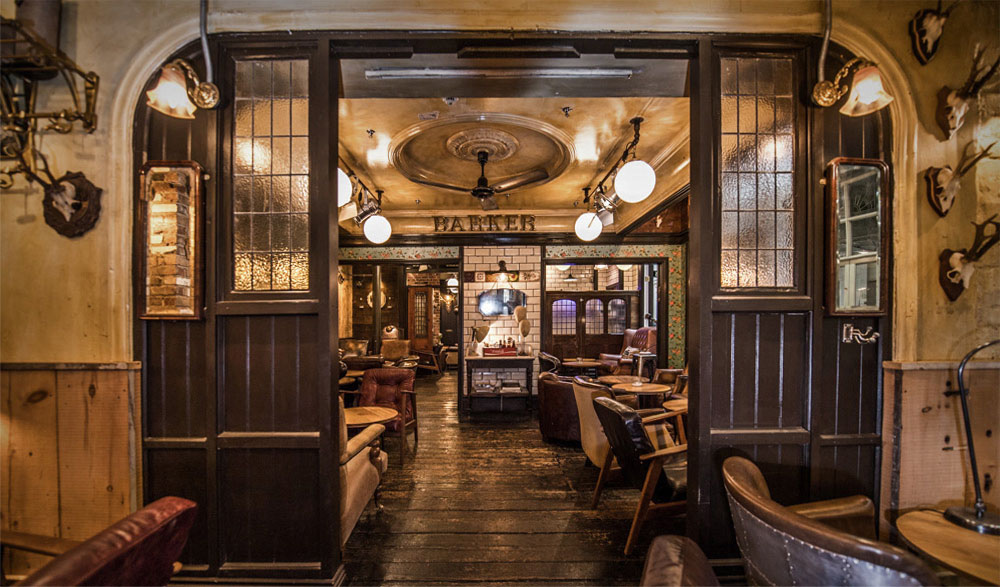 Address: 1-13 Castle Arcade, High St., Cardiff CF10 1BU
Website: coffeebarker.com