Diana:
Happy Birthday!
I kept this for you.
It was our first indication that you were going to be a great witch. Maybe you'll need it one day.
Lots of love, Mom
We love Rebecca's letter to Diana!!
To celebrate, we have a mega-giveaway jointly with All Souls Con, Daemons Domain, and Daemons Discuss.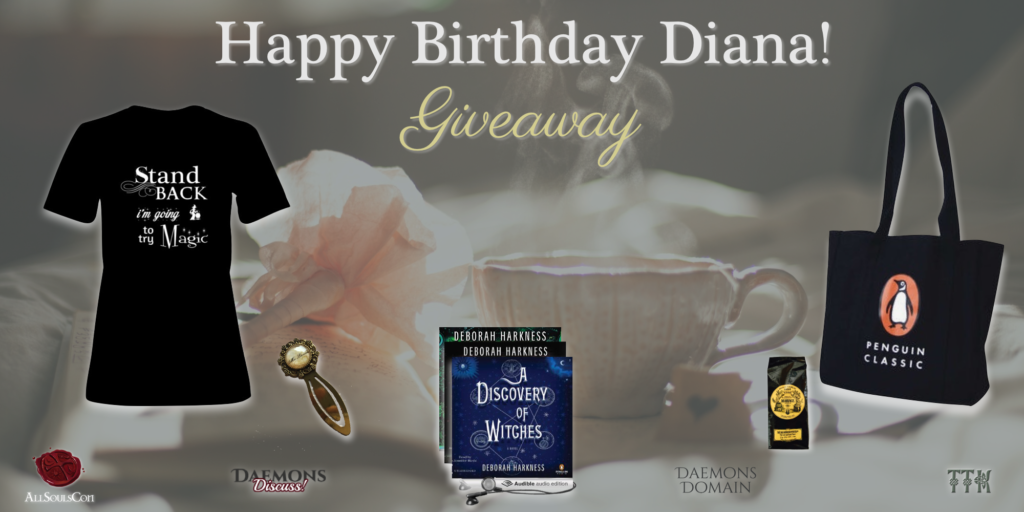 The prize package:
A Book Of Life-inspired t-shirt from us (you choose the size)
A Penguin tote from All Souls Con
Artemis tea by Mariage Frères from All Souls Con
A Ma Lionne bookmark cabochon from Daemons Domain
An audiobook of your choice* from Daemons Discuss
Terms and Conditions:
The giveaway starts August 13 and ends at 11:59PM on August 28, 2017 EDT
No purchase necessary
Multiple entries permitted
Open to participants worldwide
One winner will be picked at random among all valid entries
* Daemons Discuss is not a partner w/ Audible, nor is this an affiliate promotion; the book will be gifted to the winner's Audible account (required to receive the book). If you do not have an account, you can join for free on a trial basis; even if you decide to cancel, the book will still belong to you. Winners outside the US will be offered a credit for a book from the publisher serving that particular country. Depending on the country, the book may not be available on Audible. If that is the case, a credit for a book (of the winner's choice) of similar value will be offered.
The prize winner will be notified via email within 24 hours after the contest ends. The winner will have 72 hours to reply, or a new winner will be drawn.
If you have any additional questions, feel free to send us an email!
Good Luck, everyone!