There's something to be said about earning your afternoon tea. When you walk for miles all over London in cold weather, you can work a big appetite. Even in rainy weather, London is more magical than ever when you explore the sites of the All Souls Trilogy with a kindred spirit. And afternoon tea at The Wolseley tastes better when you're in the company of a foodie that can tell you all about the tea sandwiches. The whole experience is truly a double treat!
By Karis B.
For months, Laura and I had been communicating via email, phone and WhatsApp. Finally, the day came we got to meet in person for an All Souls World date in London.
Sadly, the rain scuttled our plans of wandering the city by foot, so we attempted a sweet treat at our meeting place—The Wolseley. Yes, Hamish's haunt while in London.
Staying Dry at the National Portrait Gallery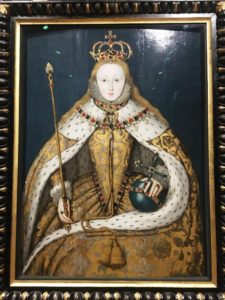 It seemed like everyone else in London had the same idea though, so we headed for the Tube and made our way to the National Portrait Gallery to stay dry. It's definitely a must-visit if you've never been, especially for the Tudor and Elizabethan portraits on level 2. We spent at least an hour and a half fangirling over some of our favourite Shadow of Night celebrities:
Queen Elizabeth
"My heart skipped a beat. Here was legend brought to life." – Chapter 25, Shadow of Night
Walter Raleigh (who really did look like a pirate)
"I tried to swallow a morsel of toast. Our new arrival was almost certainly the missing member of Matthew's School of Night, Sir Walter Raleigh." – Chapter 2, Shadow of Night
William Cecil
"'I believe that your husband and his friends call me the Old Fox. I am also, for my sins, the lord high treasurer.' The shrewdest man in England, and certainly one its most ruthless, allowed his words to sink in. Hi kindly expression did nothing to diminish the sharpness of his gaze. William Cecil was sitting in my parlor." – Chapter 25, Shadow of Night
Following in Diana's Footsteps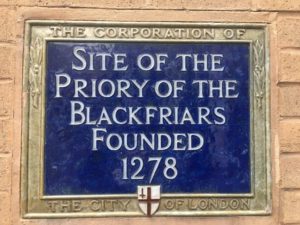 From there, we wandered around the Blackfriars area. It certainly wasn't Laura's first time there, but it was mine, so she played tour guide and we visited St James's Church on Garlic Hill and Playhouse Yard, among others. We were disappointed that we didn't spot any members of the London Coven. 
Afternoon Tea at the Wolseley
Where's the Battenberg Cake?
Finally, we felt we had deserved our afternoon tea break at The Wolseley.
Unsurprisingly, it was still very busy, but as fate would have it, there was a free table!
This was my first time at The Wolseley and I can definitely see why Hamish loves it there. He must be a fan of Art Deco and prompt service.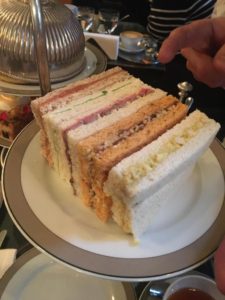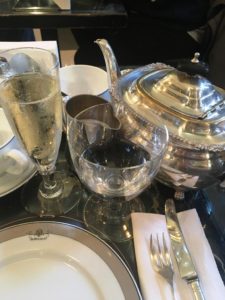 We decided on the full afternoon tea experience, finger sandwiches, scones, and delicate patisserie. Along with big silver pots of tea.
There wasn't any Battenberg cake on the menu today. It just means I need to go back again in the future.
We savoured our time with the sandwiches, appreciating each classic filling. I started with light smoked salmon and then moved on to the cucumber with cream cheese, thankfully not soggy despite the amount of time it took us to get to it. After a bit more tea and a bit more chatter, we got into the beef and horseradish that had just the right amount of heat and I really loved it – I think it's an acquired taste for some though, because I think Laura preferred the other options.
The next was cheese and pickle on a lovely, slightly spicy tomato bread which elevated what can be a very boring sandwich. And I saved the best for last—my favourite British sandwich filling: Coronation chicken which is usually quite strong on the curry flavour and slightly sweet from the inclusion of mayonnaise. Not this time though, it was moist, lightly spiced and the Coronation chicken of dreams.
How Do You Eat Your Scones?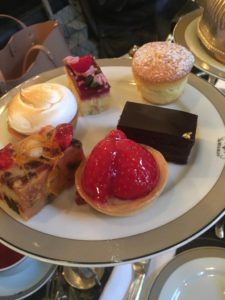 You'd be surprised how much room a sandwich and a lot of tea will take up and we were starting to feel full. It wasn't going to stop us eating our scones though.
I must say, these were stunning scones. They weren't dry and they didn't have the slightly bitter aftertaste that many scones have (it's usually the baking powder). They were served with clotted cream and a nice strawberry jam.
Now, I'm a staunch jam first girl, and I was shocked to see Laura put the cream on hers first!
It's all the same in the end, of course, but I'll always be promoting jam first. Tell us in the comments or on social media whether you're #jamfirst or #creamfirst.
The Final Sweet Treats
After that, we were more than satisfied. The kind waiter packaged up what was left and we were on our way—specifically to Hatchards to see if we could find Gallowglass in the maps section (he wasn't there, we weren't having much luck with running into the right people that day).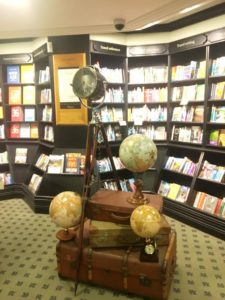 I did enjoy the tiny little cakes and tarts I went home with though. I had a moist, rich chocolate cake, a raspberry sponge, and my all-time favourite dessert, lemon meringue tart which had a thin and crisp shell, perfectly tangy lemon curd and wonderfully billowy meringue.
My only gripe with the patisserie is that they provide six different types on the plate, which is not easy to divide up with a second diner—they are small, fiddly and messy if cut up. I'd have been happy with just two of each of three items so we could enjoy the same sweets. 
An All Souls World Day Out in London
I love that I can go to so many parts of London and see some of what Diana saw. Deborah Harkness has masterfully included so many amazing aspects of London and London's history, without seeming like she was just ticking off a list. It's a wonderfully detailed tapestry and I'm always finding a new detail.
Thanks for a brilliant day out Laura!
Photo credits: Karis Bouher