At first, we wanted to write a review about The World Of All Souls, but had to change plans, because how do write a review about a book you want to hug? Well, it would be awkward, so we decided to list our Top 10 favorite finds.
But first thing first. Who's this book for? This question is easy to answer. If you fit one of these profiles, The World Of All Souls is for you.
You haven't been able to put the All Souls Trilogy down since you've read it / listened to it

You're part of a fan group because you need to share your All Souls passion /addiction with kindred spirits

You can quote the books

You love all the Easter Eggs in the trilogy

All of the above
As stated in the "Acknowledgment" section of the book, It is to the All Souls trilogy's loyal readers, each and every one of you, that this book is dedicated.
The World Of All Souls is the paper equivalent of a Limited Collector's Edition box set of your favorite movie series with all bonus features: behind-the-scenes, outtakes, inspiration, locations, and more! It's a gem.
All this goodness comes with irresistible eye candy you can't possibly have enough of. The beautiful illustrations by Colleen Madden are artfully woven like a spell into the text by book designer Francesca Belanger. Standing ovation for these two ladies.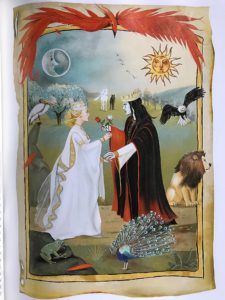 To the authors: Deborah Harkness, Claire Baldwin, Lisa Halttunen, and Jill Hough, THANK YOU for such a treasure!

Finally, here is our Top 10 list of favorite surprises and finds:
The letter from Philippe to Baldwin

The evolution of Matthew Clairmont

The map of the Bishop House

The missing pages from Ashmole 782, in color

The knot magic

Timewalking

The Knights of Lazarus

The Forest Room at Clairmont House

Wine tasting

The art in the trilogy
We'd love to know yours!
Links:
Video from The World Of All Souls signing in Seattle: 
(Deborah also reads the first chapter of Time's Convert. Fast forward to 26 minutes to hear it!)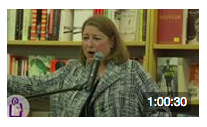 Colleen Madden's Bonus Bookmarks
Colleen Madden has posted a bookmark a day for the countdown to the publication of The World Of All Souls.
Directly from her Twitter account, @thenewredplaid:
.."things that didn't make the book but have been in my sketchbooks for YEARS" pdf bmarks! a new "matt & di" each day, til sunday! xo #TheWorldOfAllSouls #ForgottenSketches 
You can find all the bookmarks in high resolution printable files on Dropbox.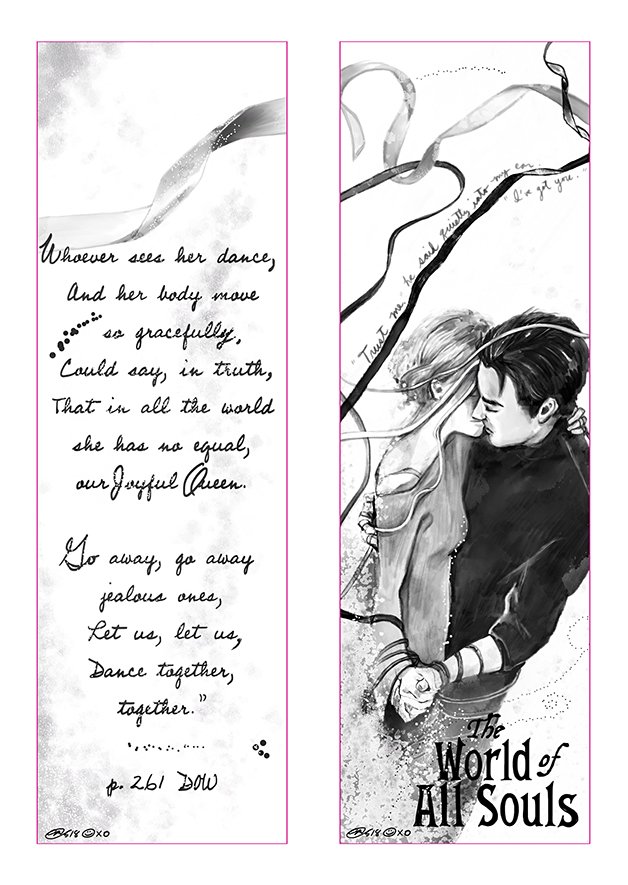 Where to Find Signed Books:
? Murder by the Book: http://murderbooks.d7.indiebound.com/book/9780735220744 (within the "Featured & Signed" section, http://murderbooks.d7.indiebound.com/featured-signed)
? University Book Store: Call 206-634-3400 (Free shipping)
? Quail Ridge Books: Call 919-828-1588
? Joseph Beth Books: Call 513-396-8960
? Malaprop's Bookstore/Cafe: https://www.malaprops.com/book/9780735220744 (Specify "signed book" in the Comments)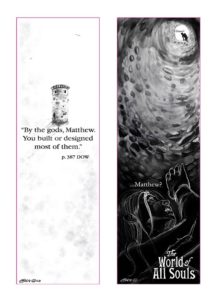 ? Towne Book Center & Cafe: 33 signed copies available at the time of this post; order online, https://www.townebc.com/book/9780735220744, or call 610-454-0640