"Where are my red hose?" Matthew clomped downstairs and scowled at the boxes scattered all over the ground floor. […] In Prague, it was now the eleventh of March and the children and Pierre had yet to arrive.
—Shadow Of Night, Ch. 27 real-time reading
In Shadow Of Night, Diana and Matthew have just arrived in Prague, so it seems only fitting to celebrate with a few Prague souvenirs we collected last January.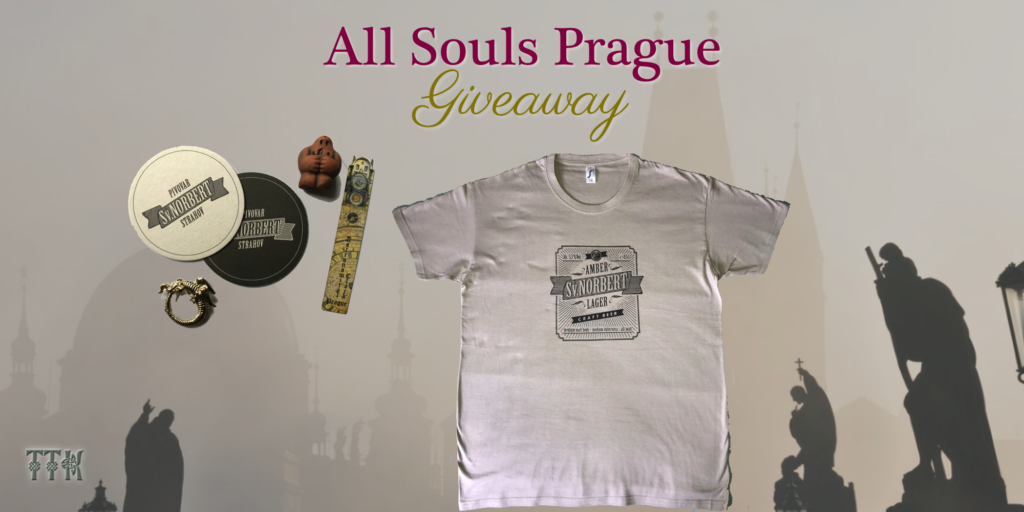 The prize package:
A St. Norbert beer t-shirt (size L) from the Strahov Monastery brewery
Two coasters also from the Strahov Monastery brewery
A hand-made clay Golem
An ouroboros pin
An Astronomical Clock bookmark
P.S. We also started a new series, On the Footsteps of Diana & Matthew – Prague, Malá Strana, if you want to see the significant places in the All Souls Prague.
Terms and Conditions:
The giveaway starts March 11 and ends at 11:59PM on March 23, 2018 Pacific
No purchase necessary
Multiple entries permitted
Open to participants worldwide
One winner will be picked at random among all valid entries
The prize winner will be notified via email within 24 hours after the contest ends. The winner will have 72 hours to reply, or a new winner will be drawn.
If you have any additional questions, feel free to send us an email!
Best of luck, everyone!