At AllSoulsCon last September, Deborah told the audience: "I am writing, and I am writing about people that you know." [audience hoots and applauds]
That's all we knew until Friday, October 9 when Deborah announced on Facebook her new novel entitled THE SERPENT'S MIRROR.

A Toast to The Serpent's Mirror—Our Take on the Upcoming New Novel
"Set in the All Souls' world and centered on Matthew Clairmont's career as a vampiric double agent in the Tudor era, the novel explores historical riddles surrounding the ascent of Elizabeth I to the throne." Fans and history geeks rejoice!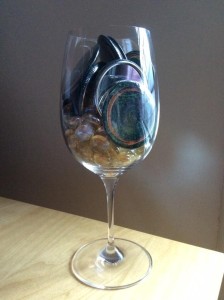 We're still euphoric from the announcement. And in our euphoria, we're hoping that it will be at least a couple of books about the shenanigans of the School of Night.
Deborah also said that the "contemporary narrative involves the witch-historian Diana Bishop." And that makes us ponder. Will it be the Diana-scholar before she met Matthew? Or would it be the historian and Matthew wife? Either way, it will be so much fan to read.
One thing we do know is that we can count on AllSoulsCon 2017 having at least one panel about THE SERPENT'S MIRROR. And we can already predict who will volunteer as panelists 😉
We're also happy to learn is that the book won't be published until 2017. Yes, it is great news! This will hopefully give Deborah enough time to pace herself in order to stay healthy (and sane), in addition to writing and consulting with the BBC.
"Over the next 6-9 months, I'm guessing there's going to be a whole lot of announcements," said Deborah at AllSoulsCon referring to the TV show. While she also told us that the show has not been greenlit for production, we believe that the statement is very promising. Please note that we only know as much as any fan, but as we stated before we have faith in the BBC and expect Deborah to be involved, especially knowing how generous she is. "I'm going to help them [the BBC] and support them in whatever way I can," she stated when a fan asked about her involvement.
On a side note, can somebody clear Jennifer Ikeda's calendar? We cannot imagine anybody else narrating a book involving Diana Bishop & Co.