It began with an oil painting …
Meet Isabel Parkinson, an undergraduate student of Philosophy and German at Oxford University. Isabel also happens to be a huge fan of the All Souls Trilogy. Her love for the book series brought her to ask Ruth Fitton, the talented painter working on Isabel's portrait, to include A Discovery of Witches in her own portrait. Said portrait brought together Isabel, Ruth Fitton, and All Souls Con—and eventually The Tenth Knot. As a student at Oxford, Isabel shared what it's like living and studying there, and yes, even working at the All Souls Library. But that's not it. In a bonus post, Ruth shares some of her painting secrets. P.S. You will be able to admire a photo reproduction of the portrait at All Souls Con.
How have you come across the All Souls Trilogy?
It was my mum who recommended A Discovery of Witches to me a few years ago—she's a historian so it had her hooked from the first page! I always head straight for the Fantasy section of any bookshop and there's something about vampire fiction that really grabs me, so there was no doubt that I'd fall in love with it too, and devour the rest of the trilogy!
What makes the series so special that you asked Ruth Fitton to include A Discovery Of Witches in your portrait?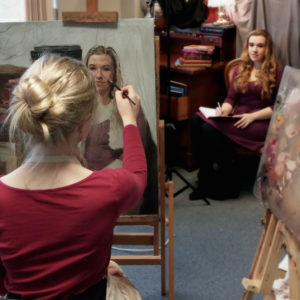 I knew that I wanted something to do with Oxford in the portrait – in the early stages I was considering adding a window with a view out on to the famous Radcliffe Camera – but the series isn't just Oxford: it's fantasy, my favourite genre; and history; and characters so realistic and enthralling that you not only want them to suddenly appear in front of you, but absolutely believe that they could! I've read and fallen in love with A Discovery of Witches so many times that it deserved a place among my other favourite, most formative books.
You're a writer (wow!). Tell us a little bit about the books you've written and future writing projects. How much have your favourite books influenced your writing?
I've got two big projects on the go: two completed novels, and I'm penning the sequels for each while submitting the completed books to various agents. There's Freefall, a fantasy novel exploring parallel worlds; metaphysics; history; and a tall, dark, handsome hero who's really not very good at anything. That's on the back-burner for now because I'm focussing on Etiquette, a glamorous, modern school story that follows an off-the-rails party girl as she's packed off to boarding school, where she has to navigate the eccentricities and hallowed traditions of English etiquette.
My favourite genres – historical fantasy, like the All Souls trilogy, and other fantasy like Helen Dunmore's Ingo series – definitely influenced Freefall, because I was writing the kind of book that I wanted to read! I love fantasy with a strong element of reality – a particularly familiar protagonist, a real place, genuine attention-to-detail in terms of world-building. Etiquette definitely owes a lot to classically charming school stories like Malory Towers, but also – and it sounds unlikely – to Bram Stoker's Dracula. I loved how the story was told through telegrams, journals, letters (so much so that I'll be writing my thesis on epistolary novels!) and I decided to update the style and utilise it in Etiquette: the book alternates between prose, social media snippets, and the main character's most bizarre detention reports!
You're very, very lucky to study at Oxford. Can you share what is like to be in such a magical place? Have you had a chance to spend time at the Bodleian Library or the All Souls Library?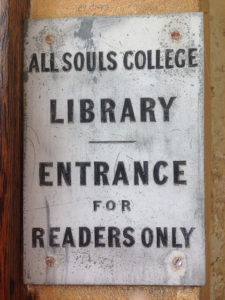 I do feel very lucky to study at Oxford; the novelty hasn't even started to wear off yet, and there are definitely a lot of pinch-me-I'm-dreaming moments: like drinking champagne in a 750 year-old quad; seeing Benedict Cumberbatch or Prince William walking down the street; writing essays below oil portraits of famous alumni; croquet; punting; outdoor theatre – I'm not just here to do work, in my opinion, I'm here for the full Oxford experience! And you're right, it does feel like a magical place – after all, it's housed some of the most sparkling imaginations in the world; it wasn't just the inspiration for the All Souls trilogy, but also for Tolkien, C.S. Lewis, Evelyn Waugh. It's the kind of place where the statues could come to life, where the sundials could start running backwards, where vampires could crawl out of the woodwork, and you'd just think – yes, of course, that's Oxford.
I've made a habit of working in the All Souls College Library a few times a week on my way back from lectures. It's a beautiful space – marble statues, high ceiling, tiled floor – and I'm actually writing this from a desk in the Historia Orientalis section, right behind a statue of Christopher Codrington. I definitely need to work here as a matter of academic urgency, absolutely not so I can admire the pretty ceiling and keep an eye out for Matthew. No. Definitely not.
Nowadays, the Bodleian Library is kind of an umbrella term – so it includes the college libraries, the faculty libraries, and the more famous central libraries, like Divinity Schools and Duke Humfrey's, the reading room for rare manuscripts and special collections. There's the Radcliffe Camera, too, where I often hole up to work on essays, and (a fact which is still really quite exciting even after being here for two years) it's connected to the Old Bodleian Library via an underground passage.
Do you have a favourite place or activity in Oxford?
Anything that gets me out and exploring! I make a point of taking myself to the theatre or to a restaurant every couple of weeks – I love exploring Oxford by myself on occasion, to really give myself the space and the quiet to enjoy it, to absorb everything. A favourite habit is finding myself a quiet table in England's oldest coffee house on the way back from lectures, to just watch the world go by and delve into a good book – I need a break from Philosophy and German sometimes!
And once the warmer weather hits, you just have to go punting – it's the most idyllic, dreamy way to spend an afternoon; the river takes you through wooded glades, along the bottom of Christ Church meadow, under footbridges, and generally makes you feel like you're in Brideshead Revisited.
Have you visited any other places mentioned in Deborah's books? 
I have a class at New College every Tuesday, and I was lucky enough to watch a fantastic performance of The Marriage of Figaro in their college chapel last week – no sign of Diana, though! I try and make a point of visiting as many places in the books as I can, tracing out the routes followed by the characters – Diana's frequent route out of the Bodleian quadrangle then under the Bridge of Sighs in A Discovery of Witches, for example, or Matthew's journey from Christ Church college to a little café on High Street. My lectures and classes take me all over the city, really.
Well, what a lucky lady!
You can admire more photos of Oxford on Isabel's blog, and you can also follow her on Instagram. And below, you can learn some secrets of portrait painting directly from the artist.
Secrets of a Portrait Painting by Ruth Fitton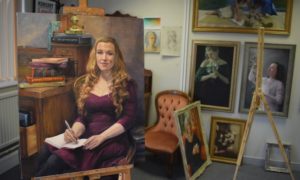 As a portrait painter, my job is to capture a person's likeness and personality on canvas… alongside whatever props they choose to include. I have been asked to paint musical instruments, plants, animals, cars and – once – an enormous model boat. When budding author Isabel Parkinson arrived at her sitting armed with several crates of books, I was delighted. Among these was a copy of Deborah Harkness' 'A Discovery of Witches'. Social media put Isabel and I in touch with All Souls Con, and now that the painting is finished I have put together a short article relating some of the secrets behind a portrait sitting for readers to enjoy…
A portrait: where on earth do you start?
When looking at any painting by a master painter, it is easy to be overwhelmed. One of the questions I am asked most frequently as a painter is "where on earth do you start?" The key to a good painting is always to start large and work towards the details. The magic may be in the details, but the truth and integrity are in the foundations.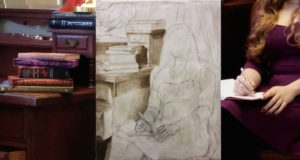 The first thing we take in when we look at a painting is its composition – the arrangement of objects and spaces on the canvas, and the overall colour scheme. This is its foundation. In portraiture, the composition is instrumental in depicting the character of the sitter. How much of the sitter is painted? What is the context? What are they doing? Are the colours warm or cool? The overall setting in which a sitter is placed is the first thing we notice, giving us an immediate impression of their personality.In painting Isabel, I wanted to capture her warmth, femininity and intelligence. As a budding author, Isabel wanted the painting to feature the books which she adores – among these, Deborah Harkness' 'A Discovery of Witches'. So our first session in the studio involved experimenting with furniture, light sources and various combinations of books. Everything we decided on is symbolic. The mahogany dresser and pink velvet boudoir chair harmonise with Isabel's genteel femininity; the books arranged in an oval around her evoke a feeling of coziness. The colours of the books and clothing are predominantly red or purple, echoing our choice of a very warm spotlight – the simplest and most effective way of evoking Isabel's warmth of character.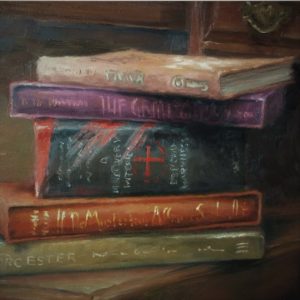 Overall shapes, colours and narratives – that's how you start.
What other books are in the portrait?
• Agatha Christie: The Mysterious Affair at Styles
• Truman Capote: Breakfast at Tiffany's
• Bram Stoker: Dracula
• Daniel Glattauer: Gut Gegen Norwind
What happens in a portrait sitting?
People often ask me what is involved in sitting for a portrait. "Do I really have to sit still for hours?" they ask. The short answer: "Yes." It is important for capturing a likeness that the model remains consistently at the same angle to the painter. The human face is such a complex structure that the slightest shift of position alters every shape and every shadow. So yes, for about 3/4 of a portrait sitting the model is required to maintain a pose and keep as still as possible – and this is much, much harder than it sounds.
However, the remaining percentage of the sitting process is equally important, and it involves conversation, interaction and connection between model and painter. The most fascinating thing about the human face is its ability to communicate. My favourite portraits are the ones where the figures seem to actively communicate with the viewer – a 'speaking glance', as I like to think of it. So it is essential to become familiar with the full range of a model's facial expressions during the course of a portrait painting. Only then can you make their portrait speak.
For this portrait I worked with Isabel over six days of live sittings from December to March. This gave me plenty of time to learn and understand how the various facets of her character manifested in her facial expressions. The intensity of Isabel's 'thinking face', the brightness of her spontaneous laugh, and her patience in holding a half-smile for hours on end all went into the creation of her portrait. That is the beauty of painting from life. Both the character of the sitter and the character of the artist creep into the paintwork as the likeness is created.
What did you talk about?
• Books (both read and written)
• Opera
• Exercise (or lack of)
• Soup
What is the most enjoyable thing to paint?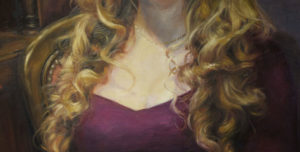 In painting Isabel, I was offered a rare treat: the chance to paint a gorgeous, swirling, waist-length mantle of curly golden hair. Painting realistic hair is all about the brushwork. For something so detailed, it is (rather surprisingly) best painted loosely, with variations in brush-stroke providing the realistic texture rather than strand-by-strand depiction. This type of illusion is the most fun thing to create. Isabel's hair was a challenge and a joy, and I worked on it until I could step back from the painting and almost believe that I could reach out and run my fingers through it.
What's the hardest thing to paint?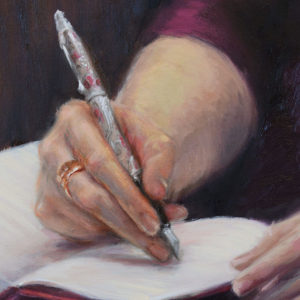 I used to hate painting hands, but practice makes perfect—now I love them.
How do you know when a painting is finished?
It takes a lot of self-discipline to declare a painting finished. It is your work, your baby, about to go out into the wide world; it is always tempting to strive and continue striving to make the painting as perfect as you possibly can.
This painting was no exception. Even in Isabel's final sitting, there was discussion about adding to the background (a box of tea? A cup? A prettily draped cloth?). This sort of second-guessing is more often than not the result of being too familiar with a painting—the artist begins to see needs which don't exist. There comes a point then when (having viewed the painting from six feet away, from twelve feet, in a mirror, on a computer, and having scrutinised every inch with your nose to the canvas) an artist must simply throw down the paintbrush and say "no more!"
No artist has the magical ability to know that a work of art is complete. It is not an act of knowledge, but an act of courage and of faith to declare that your work is done.

How long does it take for the paint to dry?
Oil paints take around six months to fully dry out. If the paint is applied very thickly, it can take up to a year!
About Ruth Fitton
Ruth Fitton is a portrait painter based in Yorkshire, Great Britain. Originally trained as a classical musician, Ruth caught the painting bug when asked to create a portrait as a prop for an opera production. She has never looked back! She now paints full-time from her studio in Leeds, dividing her time between commissions, exhibitions, and ever-constant practice. Her inspirations include John Singer Sargent, Anders Zorn and Gustave Klimt, as well the abundance of talented contemporary painters found on Youtube and Instagram. 
Ruth works in oils and is never happier than when painting from a live model. Her portraits are renowned for their communicative nature, and she has been praised for her ability to capture both the likeness and personality of each sitter in a positive and affirming way.  Her paintings hang in private collections across the UK and Europe.
Ruth is delighted to be involved in All Souls Con 2017, and is very grateful to sitter Isabel Parkinson for introducing her to such a captivating trilogy!
Find Ruth at RuthFittonPortraits.co.uk and on Instagram.