If you've listened to the narration of the All Souls Trilogy, read by Jennifer Ikeda (and the Harry Potter audiobooks narrated by Jim Dale), you may suffer from "audiobook hangover."
Jennifer Ikeda has won two Audie Awards for her All Souls Trilogy narration. And back at All Souls Con 2015, Deborah has stated herself that when she writes Diana, she hears Jennifer Ikeda's voice. Jennifer is that good!
Check out the All Souls Con video with Jennifer reading Chapter 2 of A Discovery Of Witches, when Diana and Matthew meet at the Bodleian Library for the first time.
If you own the All Souls Trilogy audiobooks (electronic version—not the CDs) and live in the United States, please keep reading.
Do you know that there's a very easy and FREE way to share your passion with someone else?
This might be the best-kept secret in audiobook and e-book land!
The "Send this Book" feature allows you to send the All Souls Trilogy audiobooks (and most other audiobooks) to friends and family.
It is completely free for you to send audiobooks this way. And if this is the first time that you recipient receives an audiobook through this feature, it will be 100% FREE for them, too.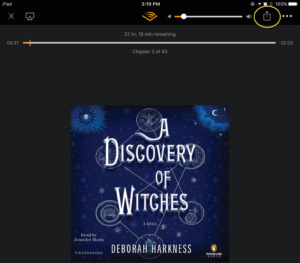 There's a catch: Redemption of audiobook recommendations is limited to customers residing in the United States and for titles available on Audible.com. You can read the Terms & Conditions, as well as some frequently asked questions on this Audible page.Hopefully, there's something similar outside the USA. Please do let us know if this feature is indeed available outside the US, so we can update this post.
Below are the easy steps with screenshots. The asterisks indicate any potential daemonic features, such as highly addictive activities.
The icon circled in yellow is the magic sharing tools we're talking about. Start with touching that icon and another magical window appears.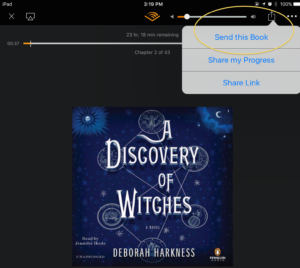 Touch the "Send This Book" text and a 3rd window appears with the option to email or text the link to the free download.
That's it. It's that easy!
The same feature is also available in the US for the e-books.
Hope you'll take advantage.
Last, but not least: Would you like to receive one of the All Souls Trilogy audiobooks for free? If you'rebased in the USA and have never redeemed a free audiobook via the "Send this Book" feature, we'd be happy to email it to you. Send us an email and let us know which book you'd like to receive 😉 And we may recover from audiobook hangover—unlikely, but we'll try.